Holdgate Farm is the farmhouse next to the Dingles farmhouse, Wishing Well Cottage. It is on the edge of Emmerdale Village. Originally owned by Mr Holdgate who died in 1995, it was the home of the Glover family from September 1995 until about 1998. It was left empty for a while until the Reynolds family moved in. This was followed by the Kings in 2004. It is currently the home of the Sharma family.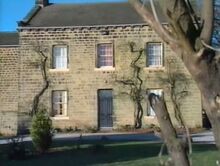 Mr Holdgate
died in September 1995. Frank Tate offered the tenancy to the Glover family.
It is about half a mile from Emmerdale Village (as stated by Jamie Hope, episode 5399)
Directions given by Betty Eagleton to Reverand Burns in the village shop was "go straight through the village. On a mile. Take the left fork and it's the second house..." [the first being Wishing Well Cottage] (episode 2110).
Known residents over the years
Edit