Harriet Finch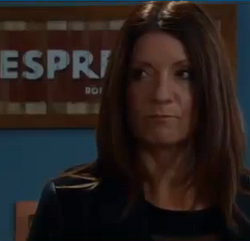 is a character in Emmerdale who first appeared in
Episode 6719 (21st November 2013)
. She is a second cousin of village resident
Edna Birch
. Harriet and former vicar
Ashley Thomas
vied for the job as new Emmerdale vicar after
Reverand Jude Watson
announced he is moving on. Ashley won but later relinquished the position to Harriet. Harriet, a former resident of Leeds is feisty and shook up the village on her arrival. She even started an affair with local bad boy
Cain Dingle
. Harriet is played by
Katherine Dow Blyton
.
Biography
Edit
Backstory
Edit
Harriet Finch was born on the 24th September, in about 1965. Her mother was Mildred Finch, whose cousin Edna Birch lived in Beckindale (now Emmerdale). Harriet worked as a policewoman in Leeds, West Yorkshire.
To be added
Memorable info
Edit
Born: 24th September, year unknown
Full Name: Harriet Finch
It is very likely that Finch is Harriet's maiden name, as she has never hinted that she has been married before, but in Emmerdale, you never know. Watch this space.
Mother Mildred Finch
Second cousin once removed Edna Birch, Lily Butterfield
Second cousin twice removed Peter Birch
Ad blocker interference detected!
Wikia is a free-to-use site that makes money from advertising. We have a modified experience for viewers using ad blockers

Wikia is not accessible if you've made further modifications. Remove the custom ad blocker rule(s) and the page will load as expected.