Gabby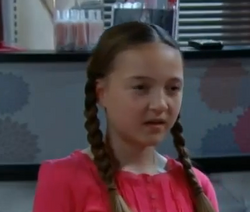 Thomas is the daughter of
Ashley Thomas
and
Bernice Blackstock
. She has been played by (initially) both
Annelise Manojlovic
and Jemma Giles (Gemma stopped playing Gabby in 2002). She is now played by
Rosie Bentham
.
Biography
Edit
Memorable info
Edit
Annelise Manojlovic has become the longest serving child actor in Emmerdale, and the 2nd longest in British TV Soap Opera due to her 14 year stint as Gabby Thomas (after Warren Jackson who played Nick Tilsley in Coronation Street).
In 1972 there was an adult character called Gabby Thomas, played by Heather Franks - no relationship to the 2001 onwards, character. (See http://www.imdb.com/name/nm1122327   http://www.famousbio.com/Heather-Franks )
Father Ashley Thomas
Mother Bernice Blackstock
Siblings Arthur Thomas
Grandfathers Sandy Thomas, Rodney Blackstock
Grandmothers Dorothy Thomas, Diane Sugden
Aunts/Uncles Luke Thomas, Nikita Thomas, Nicola King, Paul Lambert, Sharon Lambert
Great aunts Val Pollard
Ad blocker interference detected!
Wikia is a free-to-use site that makes money from advertising. We have a modified experience for viewers using ad blockers

Wikia is not accessible if you've made further modifications. Remove the custom ad blocker rule(s) and the page will load as expected.