Franklin Prescott was a minor character who appeared in 21 episodes of Emmerdale Farm in February, May,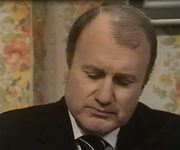 June and July 1974. He first appeared in
Episode 135 (11th February 1974)
and last appeared in
Episode 176 (9th July 1974)
. He was an old business acquaintance of
Henry Wilks
. One night when he was in London 
Dryden Hogben
did some work at his house and stayed the night. Word spread and Franklin wondered if Dry had slept with Diana. Dry strongly denied this. Franklin was a heavy drinker. He was played by
Donald Morley
.
Biography
Edit
Backstory
Edit
Franklin Prescott was born and bred in Bradford. He went into business and later become a business acquaintance of Henry Wilks, a Brdaford wool factory owner. Franlkin was married to Diana and was a heavy drinker. They decided to move to Beckindale where by chance they found Henry Wilks living there. Franklin was to commute daily from Beckindale to Bradford.
Franklin Prescott arrived in Beckindale in February 1974. He bought the old
Crossthwaite's Cottage, Cottells Lane
.
Spouse Diana Prescott
Appearances
Edit
1974
Ad blocker interference detected!
Wikia is a free-to-use site that makes money from advertising. We have a modified experience for viewers using ad blockers

Wikia is not accessible if you've made further modifications. Remove the custom ad blocker rule(s) and the page will load as expected.