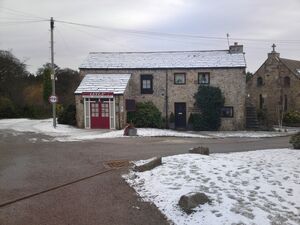 Farrers Barn is a building on the corner of Main Street and Church Lane, Emmerdale. It is at an angle so it fronts the corner of the junction. It is now the home of the village shop run by David Metcalfe, Eric Pollard's son. The barn has private housing to the side of David's Shop.
Neighbouring Properties
Edit
Usage as an antiques shop
Edit
For many years, devious antiques dealer Eric Pollard ran his antiques shop there.
Usage as the village shop
Edit
Known residents of the accomodation over the years
Edit
In 1976, there was a villager called Fred Farrar, so Farrar's Barn could have been his old place.