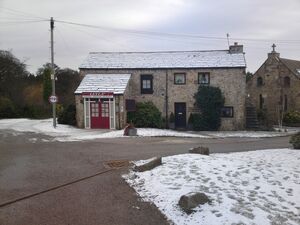 Farrers Barn is a building on the corner of Main Street and Church Lane, Emmerdale. It is at an angle so it fronts the corner of the junction. It is now the home of the village shop run by David Metcalfe, Eric Pollard's son. The barn has private housing and could be the old vicarage habited by Rev Ruskin and Hinton in the 1970s and 1980s.
Neighbouring Properties
Edit
Usage as an antiques shop
Edit
Usage as the village shop
Edit
Known residents of the accomodation over the years
Edit
Ad blocker interference detected!
Wikia is a free-to-use site that makes money from advertising. We have a modified experience for viewers using ad blockers

Wikia is not accessible if you've made further modifications. Remove the custom ad blocker rule(s) and the page will load as expected.