Faith Dingle is a character in Emmerdale, first appearing as recurring character in 2000 and 2004 and portrayed by Gillian Jephcott. She returned as a regular character in February 2017, now portrayed by Sally Dexter. She is the mother of Cain Dingle and Chastity Dingle and the former wife of Shadrach Dingle. She had an affair once with Shadrach's brother Zak in which Zak was Cain's father.
Biography
Edit
Backstory
Edit
In 1973 Faith met Shadrach Dingle and they married. However in early 1974, Faith had an affair with her brother in law Zak Dingle and 9 months later, Faith gave birth to Cain. For years she let Shadrach think he was the father. In 1977, a girl, Chas was born.
2000, 2004, 2017−
Edit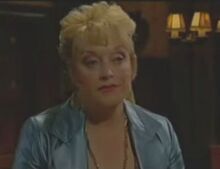 Faith turned up in Emmerdale in November 2000. She left but again turned up in October 2004 for a Dingle shindig.
In February 2017, Faith slept rough in the barn at her brother in law Zak's house and was looked after by her great granddaughter Sarah Sugden Jnr. She soon let her presence be known to her children and grandchildren such as Aaron.
Memorable info
Edit
Born: About 1952
Full Name: Faith Dingle
Spouse Shadrach Dingle (1975-2004)
Children Cain Dingle (1974), Chas Dingle (1976)
Grandchildren Aaron Livesy, Debbie Dingle, Kyle Winchester
Great Grandchildren Sarah Sugden Jnr, Jack Sugden II
Appearances
Edit
Ad blocker interference detected!
Wikia is a free-to-use site that makes money from advertising. We have a modified experience for viewers using ad blockers

Wikia is not accessible if you've made further modifications. Remove the custom ad blocker rule(s) and the page will load as expected.