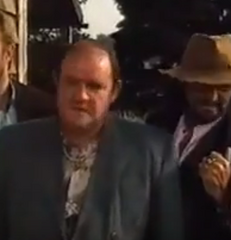 Ezra Dingle was the brother of Zak Dingle and his other siblings. He appeared in a few episodes in 1999. Ezra was played by John Henshaw.
Biography
Edit
Backstory
Edit
Ezra Dingle was born in about 1957 to Jedediah Dingle and Peg Dingle. He was one of several siblings.
Ezra arrived in Emmerdale Village 1999.
Father Jedediah Dingle
Mother Peg Dingle
Siblings Albert Dingle,
Grandfathers Jonah Dingle
Grandmothers Mrs Dingle
Spouse Gwen Dingle (1979-)
Children 1 son, 1 daughter
Nephews/Nieces Ben Dingle
Appearances
Edit
1999
Ad blocker interference detected!
Wikia is a free-to-use site that makes money from advertising. We have a modified experience for viewers using ad blockers

Wikia is not accessible if you've made further modifications. Remove the custom ad blocker rule(s) and the page will load as expected.