Ezra Brearly
was the younger brother of
Amos Brearly
, the Woolpack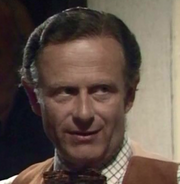 landlord and made a short appearance in Emmerdale Farm in 1983 and again in 1988. Ezra was a butcher. He and Amos did not see eye to eye and Ezra soon left Beckindale and returned to Whitehaven. He returned again shortly in August 1988 in 3 episodes. Ezra appeared in 8 episodes of Emmerdale. He first appeared in 
Episode 831 (15th November 1983)
and last appeared in
Episode 1278 (1st September 1988)
. Ezra was played by
Martin Matthews
.
Ezra's existence is a curio. In 1973, Amos spoke of having a brother Luke Brearly, who died. A few times, Amos said Luke was his only sibling. He never mentioned another brother. In 1982, Henry Wilks reminded Amos of his brother's death in a conversation. But in 1983, Amos gained a never before mentioned sibling called Ezra who visited him.
Biography
Edit
Backstory
Edit
Ezra Brearly was born in about 1933 to  Mr Brearly and Mrs Brearly, nee Mullett. Ezra's family were undertakers. Ezra becaume a butcher and moved to Whitehaven in Cumberland.
1983-1988
Edit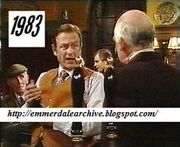 Ezra turned up in 1983 to see Amos at The Woolpack. He helped behind the bar. Ezra left the village soon after.
Ezra suddenly developed a phobia to his own trade in August 1988 and refused to touch meat. He returned to Beckindale to see Amos. His phobia was all down to a dream he had. Ezra was helped by Amos and Jackie Merrick to get over his phobia. Ezra got the bus back to Whitehaven.
In 1989 Amos visited Ezra.
Whether Ezra married or had any children is unknown.
Memorable info
Edit
Birthday: 1933
Full Name: Ezra Brearly
Father Mr Brearly
Mother Mrs Brearly (nee Mullett)
Siblings Amos Brearly, Luke Brearly
Grandfathers Mr Brearly (Had a portrait of himself painted)
Uncles/Aunts Emily Brearly, Arthur Brearly, Julian Brearly, Swithin Brearly
Appearances
Edit
1983
1988