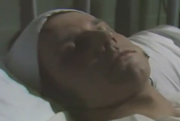 Joe Sugden
& 
Henry Wilks
are both seriously ill after crashing their cars into each other at the entrance to
Inglebrook
. Joe is in a coma & has broken his right arm & some ribs. Wilks has a broken leg. Both the Sugden and Wilks families are upset. 
Tom Merrick
tells 
Ruth
about a car accident between Henry and one of the Sugden brothers. Tom taunts Ruth about the accident pretending that 
Jack Sugden
was involved (Jack & Ruth were a couple before Jack left Beckindale 8 years ago). Jack helps 
Matt Skilbeck
on the farm, but then hires Tom Merrick. There is a comic scene with Amos & village policeman
PC Ball
tasting a 
customers
beer in
The Woolpack
. 
Marian Wilks
visits her father Henry Wilks in hospital, he says Joe was to blame for the accident.
Main cast
Guest cast
WRITER Kevin Laffan
DIRECTOR Gordon Flemyng
PRODUCER David Goddard.
EXECUTIVE PRODUCER Peter Holmans
The customer in the Woolpack having his beer tasted by Amos and PC Ball was uncredited, therefore played by an unknown actor.