Sam is feeling better ; Matt tells Annie about Carol's trip to Majorca & that Joe isn't going ; Annie doesn't really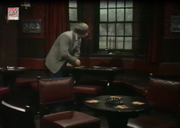 approve anyway ; Matt shows her an article in the paper with the headline 'Come home Charlie all is forgiven' ; Edward is also looking at it ; Charlie is still missing ; Fred is in hospital ; Jack is trying to get Bruce to eat, but he is pining for Charlie ; Joe asks Jack's advice about Carol & Jack tells him to let her go ; Clare tries to make Sam feel guilty about his bitterness towards Charlie ; she asks him & Annie to forgive Charlie for whatever he has done.
Matt is deep in thought in the Woolpack ; Amos asks him about his trip to Scarborough ; he says that he doesn't need to go abroad when Scarborough is on his doorstep ; PC Hallam tells Edward & Matt that Charlie has been found ; Fred dumped him at Springfields Nursing Home ; he then gets a phone call telling him that Charlie has run away ; he turns up in the Woolpack & Matt gets him a double brandy ; Dr Scott has managed to get Annie to tell her what is the problem between herself & Charlie Nelson ; apparently Charlie's mother claimed to cure people ; Charlie claimed that he had the gift & when his wife caughtTB he would not let her go to hospital, but treated her himself ; she died & was Annie Sugden's best friend so she has never forgiven him ; Clare tells Charlie that Jack wants to install a telephone for him ; she brings Bruce tohim ; Matt is undecided about a memorial for Peggy ; he has decided to plant a sapling in the churchyard ; Joe sees Carol off at the bus stop.
SHEILA MERCIER - Annie Sugden
FRAZER HINES - Joe Sugden
ANDREW BURT - Jack Sugden
FREDERICK PAYNE - Matt Skilbeck
TOKE TOWNLEY - Sam Pearson
RONALD MAGILL - Amos Brearley
GEORGE LITTLE - Reverend Edward Ruskin
DAPHNE GREEN - Liz Ruskin
ANN HOLLOWAY - Carol Benfield
JACK WOOLGAR - Charlie Nelson
JOANNA TOPE - Dr Clare Scott
FREDERICK HALL - PC Fred Hallam

Writer - STEPHEN RICH
Director - BILL COLE
Producer - ROBERT D CARDONA
Ad blocker interference detected!
Wikia is a free-to-use site that makes money from advertising. We have a modified experience for viewers using ad blockers

Wikia is not accessible if you've made further modifications. Remove the custom ad blocker rule(s) and the page will load as expected.