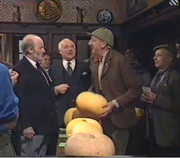 It is the day of the pumpkin competition and 
Sam Pearson
is sure to beat Seth at the pumpkin competition.
SHEILA MERCIER - Annie Sugden
TOKE TOWNLEY - Sam Pearson
ARTHUR PENTELOW - Henry Wilks
RONALD MAGILL - Amos Brearly
FREDERICK PYNE - Matt Skilbeck
JEAN ROGERS - Dolly Skilbeck
CLIVE HORNBY - Jack Sugden
HELEN WEIR - Pat Sugden
IAN SHARROCK - Jackie Merrick
STAN RICHARDS - Seth Armstrong
RICHARD THORP - Alan Turner
DIANA DAVIES - Mrs Bates
JANE HUTCHESON - Sandie Merrick
JULIE BRENNON - Alison
ANNIE HULLEY - Karen Moore
MARTIN BARRASS - Mike
TONY PITTS - Archie
ROBERT WESLEY - Mr Herbert
Writer - HUGH MILLER
Director - WILLIAM SLATER
Producer - RICHARD HANFORD
Executive Producer - MICHAEL GLYNN
Final appearance of Sam Pearson. Actor Toke Townley who played Sam had died in September. Due to advanced filming schedules Sam appeared onscreen until this episode, almost 2 months after the actor's death.