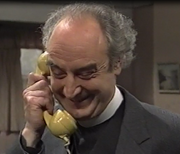 Seth Armstrong
has been sleeping in the 
Home Farm
tack room since
Meg Armstrong
locked him out of their cottage in 
Demdyke Row
.
Reverend Edward Ruskin
is back in
Beckindale
as he is filling in for
Reverend Donald Hinton
while he is away, but his dog running loose annoys
Joe Sugden
until Joe realises it is the old vicar, Mr Ruskin. Seth bangs on the door of his house at Demdyke Row, demanding Meg answers it. All the neighbours are watching.
SHEILA MERCIER - Annie Sugden
FRAZER HINES - Joe Sugden
FREDERICK PYNE - Matt Skilbeck
JEAN ROGERS - Dolly Skilbeck
CLIVE HORNBY - Jack Sugden
HELEN WEIR - Pat Sugden
RONALD MAGILL - Amos Brearly
ARTHUR PENTELOW - Henry Wilks
TOKE TOWNLEY - Sam Pearson
IAN SHARROCK - Jackie Merrick
RICHARD THORP - Alan Turner
ROSIE KERSLAKE - Barbara Peters
STAN RICHARDS - Seth Armstrong
URSULA CAMM - Meg Armstrong
GEORGE LITTLE - Rev Edward Ruskin
Writer - KEVIN LAFFAN
Director - FRANK W SMITH
Producer - ANNE W GIBBONS
Executive Producer - MICHAEL GLYNN
First appearance of Rev Edward Ruskin since Episode 260 (20th May 1975).