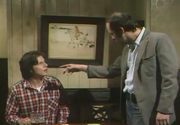 Ruth Merrick
is having a drink with 
Joe Sugden
in the
Woolpack
. Her shifty husband 
Tom Merrick
comes in and menaces her, telling her to get home to the children. As she goes Tom berates Joe, thinking that he is chatting Ruth up. Tom says he will buy his wife any drinks in future but Joe answers Tom back saying it is a rare day when he buys drinks. Tom says he will not have any lip from Joe but Joe then offers Tom a drink, Tom agrees but Joe then throws his pint over Tom and a fight almost ensues. 
Amos Brearly
rushes over to stop it. Tom leaves and Amos warns Joe not to take on the likes of Tom Merrick as he has his own ways of fighting.
Main cast
Guest cast None
WRITER Kevin Laffan
DIRECTOR Tristan De Vere Cole
PRODUCER David Goddard.
EXECUTIVE PRODUCER Peter Holmans
First appearance of Tom Merrick and Ruth Merrick later Pat Merrick/Sugden)