Henry is depressed after attending Peggy's funeral ; Amos wonders about the twins ; he fishes for information from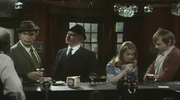 Henry & Henry finds this rude ; he shouts at him & walks out of the Woolpack ; the funeral tea is a sombre affair ; no one knows what to say to Matt ; Jack & Joe fuss around Annie ; she is coping in her quiet way ; Janie & Frank discuss Annie looking after the babies ; Janie wants to help, but doesn't want to interfere ; Jack helps on the farm ; Annie tells Matt that he was a good husband to Peggy.
A stranger comes into the Woolpack & asks after Matt ; he says that Matt used to work for him until he married Peggy ; Henry tells him what has happened ; the stranger introduces himself as Bob Molesworth & says that he works for Blackfell Farm Federation near Settle (a farm collective) - farmers work together & pool resources ; Henry tells Bob that he is Managing Director of Emmerdale Farm Ltd & that he does not want him poaching Matt ; Bob asks Amos if he can have a room for the night ; the next day, Bob calls to see Matt ; he apologises for calling at this sad time ; Matt is pleased to see him ; Bob tells him about Blackthorn Management Ltd whereby 4 farmers got together & formed the company ; he offers Matt the job of Farm Manager.
SHEILA MERCIER - Annie Sugden
FRAZER HINES - Joe Sugden
ANDREW BIRT - Jack Sugden
FREDERICK PYNE - Matt Skilbeck
RONALD MAGILL - Amos Brearly
ARTHUR PENTELOW - Henry Wilks
TOKE TOWNLEY - Sam Pearson
DIANE GRAYSON - Janie Blakey
ERIC ALLAN - Frank Blakey
REGINALD MARSH - Bob Molesworth

Writer - ANTHONY COUCH
Director - HENRIC HIRSCH
Producer - ROBERT D CARDONA
Ad blocker interference detected!
Wikia is a free-to-use site that makes money from advertising. We have a modified experience for viewers using ad blockers

Wikia is not accessible if you've made further modifications. Remove the custom ad blocker rule(s) and the page will load as expected.