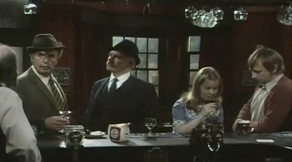 Henry Wilks
is depressed after attending Peggy's funeral. 
Amos Brearly
wonders about the twins and he fishes for information from Henry & Henry finds this rude. He shouts at him and walks out of
The Woolpack
. The funeral tea is a sombre affair. No one knows what to say to
Matt Skilbeck
. 
Jack Sugden
and 
Joe Sugden
fuss around
Annie Sugden
. She is coping in her quiet way. Janie & Frank discuss Annie looking after the babies. Janie wants to help, but doesn't want to interfere. Jack helps on the farm and Annie tells Matt that he was a good husband to Peggy.
A stranger comes into the Woolpack & asks after Matt. He says that Matt used to work for him until he married Peggy. Henry tells him what has happened and the stranger introduces himself as Bob Molesworth & says that he works for Blackfell Farm Federation near Settle (a farm collective) - farmers work together & pool resources. Henry tells Bob that he is Managing Director of Emmerdale Farm Ltd & that he does not want him poaching Matt. Bob asks Amos if he can have a room for the night. The next day, Bob calls to see Matt and he apologises for calling at this sad time. Matt is pleased to see him. Bob tells him about Blackthorn Management Ltd whereby 4 farmers got together & formed the company. He offers Matt the job of Farm Manager.
SHEILA MERCIER - Annie Sugden
FRAZER HINES - Joe Sugden
ANDREW BIRT - Jack Sugden
FREDERICK PYNE - Matt Skilbeck
RONALD MAGILL - Amos Brearly
ARTHUR PENTELOW - Henry Wilks
TOKE TOWNLEY - Sam Pearson
DIANE GRAYSON - Janie Blakey
ERIC ALLAN - Frank Blakey
REGINALD MARSH - Bob Molesworth

Writer - ANTHONY COUCH
Director - HENRIC HIRSCH
Producer - ROBERT D CARDONA