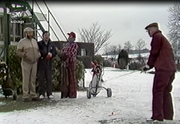 Alan Turner
takes 
Amos Brearly
out for a round of golf. Has Amos bitten off more than he can chew? 
The Major
seems to think so and takes a dislike to Amos due to Amos' garish clothes and boring chatter. Amos also interrupts The Major when he is about to take his shot. Amos overhears Turner and The Major talking where the Major says a few choice words about Amos. Amos opens up his locker and makes an excuse to be driven back to
Beckindale
. When he gets back he goes upstairs for a lie down, not telling 
Henry Wilks
what is the matter.
FRAZER HINES - Joe Sugden
HUGH MANNING - Rev Donald Hinton
FREDERICK PYNE - Matt Skilbeck
JEAN ROGERS - Dolly Skilbeck
CLIVE HORNBY - Jack Sugden
HELEN WEIR - Pat Sugden
ARTHUR PENTELOW - Henry Wilks
RONALD MAGILL - Amos Brearly
RICHARD THORP - Alan Turner
ROSIE KERSLAKE - Barbara Peters
STAN RICHARDS - Seth Armstrong
IAN SHARROCK - Jackie Merrick
MALCOLM RAEBURN - John Tuplin
MICHAEL SHEARD - The Major
PAUL HUMPOLETZ - Tufty Billingham
ALAN STARKEY - Daniel Hawkins
DREW DAWSON - Jock McDonald
MARTIN DALE - Sgt MacArthur
CAROLE MOWLAM - Dr Conway
Writer - KEN BLAKESON
Director - CHRIS BAKER
Producer - ANNE W GIBBONS