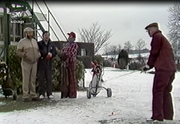 Alan Turner
takes 
Amos Brearly
out for a round of golf. Has Amos bitten off more than he can chew? The Major seems to think so and takes a dislike to Amos. Amos overhears Turner and 
The Major
talking where the Major says a few choice words about Amos. Amos opens up his locker and makes an excuse to be driven back to
Beckindale
. When he gets back he goes upstairs for a lie down, not telling 
Henry Wilks
what is the matter.
FRAZER HINES - Joe Sugden
HUGH MANNING - Rev Donald Hinton
FREDERICK PYNE - Matt Skilbeck
JEAN ROGERS - Dolly Skilbeck
CLIVE HORNBY - Jack Sugden
HELEN WEIR - Pat Sugden
ARTHUR PENTELOW - Henry Wilks
RONALD MAGILL - Amos Brearly
RICHARD THORP - Alan Turner
ROSIE KERSLAKE - Barbara Peters
STAN RICHARDS - Seth Armstrong
IAN SHARROCK - Jackie Merrick
MALCOLM RAEBURN - John Tuplin
MICHAEL SHEARD - The Major
PAUL HUMPOLETZ - Tufty Billingham
ALAN STARKEY - Daniel Hawkins
DREW DAWSON - Jock McDonald
MARTIN DALE - Sgt MacArthur
CAROLE MOWLAM - Dr Conway
Writer - KEN BLAKESON
Director - CHRIS BAKER
Producer - ANNE W GIBBONS
Ad blocker interference detected!
Wikia is a free-to-use site that makes money from advertising. We have a modified experience for viewers using ad blockers

Wikia is not accessible if you've made further modifications. Remove the custom ad blocker rule(s) and the page will load as expected.