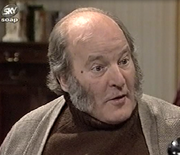 A car is parked on a road near to
Emmerdale Farm
fields. The driver seems to be watching over something.
Amos Brearly
gets ready for a day at a golf course with
Alan Turner
, who is still ruffling feathers at
Home Farm
.
Dolly Skilbeck
has  afew concerns about whether her son
Sam Skilbeck II
has whooping cough.
Ad blocker interference detected!
Wikia is a free-to-use site that makes money from advertising. We have a modified experience for viewers using ad blockers

Wikia is not accessible if you've made further modifications. Remove the custom ad blocker rule(s) and the page will load as expected.