There is shock and grief in Beckindale following Peggy's death. Dr Clare Scott visits the Rev Ruskin and tells him that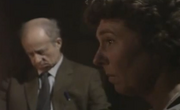 Peggy died from a subarachnoid haemmorage a 11:00 pm the previous evening. The Rev Ruskin then visits Emmerdale to explain Peggy's death to the Sugden's. Amos hints that Dr Scott is not as experienced as she should be, eliciting an angry response from Annie - who blames herself for Peggy not seeing the doctor about her headaches.
Annie Sugden - Sheila Mercier

Joe Sugden - Frazer Hines

Jack Sugden - Andrew Burt

Sam Pearson - Toke Townley

Amos Brearly - Ronald Magill

Rev. Edward Ruskin - George Little

Liz Ruskin - Daphne Green

Dr Clare Scott - Joanna Tope

Alison Gibbons - Carolyn Moody

Frank Blakey - Eric Allan

Janie Blakey - Diane Grayson

Carol Benfield - Ann Holloway
Ad blocker interference detected!
Wikia is a free-to-use site that makes money from advertising. We have a modified experience for viewers using ad blockers

Wikia is not accessible if you've made further modifications. Remove the custom ad blocker rule(s) and the page will load as expected.