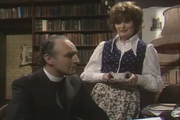 Amos sees the article in the paper about the brewery takeover and he starts to panic. Alison tries to calm him down; Janie thinks that Frank is wasting his talents in the village just mending farm implements etc. He hasn't got the bottle to do anything about it; Matt and Peggy call round to see them and ask if Janie will be godmother to Sally. They have finally decided to have a christening. Later, Matt asks Annie to be godmother to both and Joe will be godfather to Sam; Joe is fishing with Bobby Benfield who is impatient. Joe finds out that he has been playing truant from school so Bobby runs away; Sam in nervous about his confirmation confirmation day; Bobby falls, hitting his head and soon bumps into Jack and tells him that Joe hit him across the face.
Dr Scott patches Bobby up who still insists that Joe hit him; Alison is enjoying working at the shop but Henry tries to insist that she doesn't make any long term plans and she realises that he is expecting more from her; Clare returns from seeing Mrs Benfield. Bobby has been playing truant since they came back from Ireland. Clare refuses Jack's offer to take her out; Sam's confirmation went well and Matt invites the family to Hawthorne Cottage for a bit of a do; Jack seeks refuge at the forge when it starts to rain; Alison tells Ruskin that Liz has refused private treatment by an osteopath because of the cost involved; Amos is less worried about a takeover now; Everyone goes back to the farm after the party at Hawthorn Cottage. Suddenly, Matt dashes in out of breath and tells them that Peggy has collapsed and that he cannot wake her.
Main Cast Edit
Jack - Andrew Burt
Annie - Sheila Mercier
Joe - Frazer Hines
Peggy - Jo Kendall
Matt - Frederick Pyne
Sam - Toke Townley
Wilks - Arthur Pentelow
Amos - Ronald Magill
Alison - Carolyn Moody
Frank - Eric Allan
Janie - Diane Grayson
Ruskin - George Little
Dr. Scott - Joanna Tope
Guest Cast Edit
Bobby - Michael Prince
Created by Kevin Laffin
Script by - Ray and Juel Mansell
Film Cameraman - Frank Pockiington
Sound Recordist - Mike Donnelly
Film Editor - Peter M Taylor
Designers - Geoffrey Martin, Gordon Livesey
Title Music composed by Tony Hatch
Script Editor - David Crane
Executive Producer - Peter Holmans
Directed by David Green
Final appearance of Peggy Skilbeck. Actress Jo Kendall had quit the show so Peggy was killed off. This is what started the "Sugden Curse" as it seemed close family members often died.