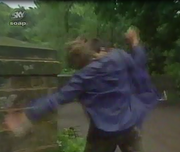 The tension between
Jackie Merrick
and his work colleague
Teddy Hooson
boil over when Teddy admits to spraying the potato plantation with fertiliser. On a remote country lane Teddy insults Jackie's mum
Pat Sugden
. Jackie lays into Teddy and then the two of them have a massive fight. They both end up falling into the river. Later on, sees them and knows they have been fighting.
Ad blocker interference detected!
Wikia is a free-to-use site that makes money from advertising. We have a modified experience for viewers using ad blockers

Wikia is not accessible if you've made further modifications. Remove the custom ad blocker rule(s) and the page will load as expected.