Jack Sugden
 is pretty sure who slashed the tyres on the Landrover. And when he hears the latest news about Jackie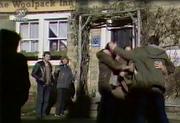 Merrick, his blood is up.
Tom Merrick
buys a pint and a pie in the and
Seth Armstrong
also suspects that he could be the one who slashed Jack's tyres, especially as he is cutting his pie with a knife. As well as Jack, Tom's blood is also up when they finally meet each other outside the Woolpack, with dramatic consequences. They start brawling and Amos and Henry break it up.
SHEILA MERCIER - Annie Sugden
FRAZER HINES - Joe Sugden
TOKE TOWNLEY - Sam Pearson
TOKE TOWNLEY - Jack Sugden
CLIVE HORNBY - Jack Sugden
FREDERICK PYNE - Matt Skilbeck
JEAN ROGERS - Dolly Skilbeck
ARTHUR PENTELOW - Henry Wilks
RONALD MAGILL - Amos Brearly
HUGH MANNING - Rev Donald Hinton
STAN RICHARDS - Seth Armstrong
HELEN WEIR - Pat Merrick
EDWARD PEEL - Tom Merrick
IAN SHARROCK - Jackie Merrick
JANE HUTCHESON - Sandie Merrick
RACHEL LAURENCE - Lisa Laird
Writer - KEVIN LAFFAN
Director - MERVYN CUMMING
Producer - ANNE W GIBBONS
Executive Producer - MICHAEL GLYNN
Ad blocker interference detected!
Wikia is a free-to-use site that makes money from advertising. We have a modified experience for viewers using ad blockers

Wikia is not accessible if you've made further modifications. Remove the custom ad blocker rule(s) and the page will load as expected.