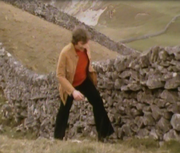 Joe Sugden
is shocked but pleased to see
Carol Benfield
.
Jack Sugden
admires a stone wall that he made six months ago. Jack meets
Dr Claire Scott
and he chats her up.
Amos Brearly
advertises for a barmaid at
The Old Woolpack
.
Penny Golighty
is sick of Joe Sugden and has decided to move on and go back to
Birmingham
. She tells Jack. Joe goes to the mill and finds all Penny's belongings are gone. Jack has to break the news to him that she has gone.