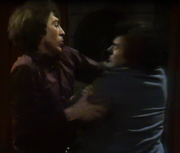 Having lost a big opportunity with his artwork,
David Rhys
gets drunk and disorderly. He accuses
Jack Sugden
of stealing
Gwen Russell
off him.
Annie Sugden
seems to be going on a secret date.
Joe Sugden
's motorbike breaks down again and
Henry Wilks
offers him a lift to Connelton. Joe says he will fix the bike. When Annie gets back to
Emmerdale Farm
from her date, she is secretive. Henry and Joe ask but she says "Dont you start" to Joe. Jack thinks that David Rhys might be moving on from the village.