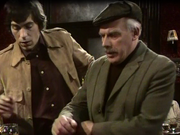 Henry Wilks
is back from his trip away.
David Rhys
is looking forward to having art critic
Angus Seddon
view his work, as it could mean a good opportunity for David. David's art is put on display at
The Woolpack
. Henry Wilks makes a few comments in front of Angus, saying he does not like the modern stuff too much. 
Nicholas Phelps
and David talk to Angus. Angus is not impressed with the paintings and feels he had a wasted journey. He says David has no real talent. Angus says that will return to London and says goodbye to David. David drowns his sorrows and takes his anger out on Henry, saying his comments put Seddon off.