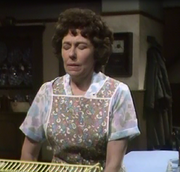 Joe Sugden
's motorbike noises are annoying
Annie Sugden
.
Jack Sugden
returns for his trip to London.
Nicholas Phelps
says he is in touch with
Angus Seddon
, an art critic, to look at
David Rhys
' paintings. This could mean a good opportunity for David's paintings to be exhibited. Annie Sugden goes to the village in her Sunday Best.
Amos Brearly
questions her over
Tom Raistrick
. Amos said his father
"Gaffer" Raistrick
taught him and Annie at school. Annie also criticises Joe for drinking and driving. Phelps says that Seddon is interested in David's paintings.