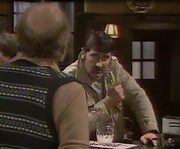 Amos Brearly
is getting the Christmas decorations ready. at
Emmerdale Farm
, Jack jokes about Sam taking his time doing jobs. Meanwhile 
Tom Merrick
walks back into 
The Woolpack
after 8 years away from the village and Amos is suspicious of him and so is
Seth Armstrong
, in which Tom soon announces that as his wife
Pat
lives in the village he can pay a visit to it any time he likes. Later on Tom mocks the new 
NY Estates
boss
Richard Anstey
after he walks out of the pub. Amos puts him right and also says that he is the one who is letting the caravan to. Tom says Amos should have said so he could have licked his boots. Tom then mocks Amos's spelling, of which Amos is not best pleased about. At the caravan later that night, Tom knocks on the door and comes in after Jackie lets him in. Pat especially is not pleased to see him.
Guest cast
First appearance of Tom Merrick since Episode 12 (21 November 1972) and first appearance of Edward Peel in the role, the role had previously been played by Dave Hill.
Ad blocker interference detected!
Wikia is a free-to-use site that makes money from advertising. We have a modified experience for viewers using ad blockers

Wikia is not accessible if you've made further modifications. Remove the custom ad blocker rule(s) and the page will load as expected.