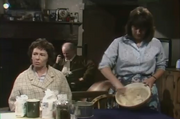 Marian Wilks returns home to Inglebrook after her romantic moment with Jack Sugden. She says her car broke down. Henry Wilks wonders why she was gone for many hours. She says it was raining. She says she has a date later on. This makes Henry think she has been with someone. Barney and Ted play darts. At  Emmerdale Farm, Joe Sugden has been borrowing money off Sam Pearson, Annie Sugden and Matt Skilbeck. Annie confronts Joe and tells him to sit down.
Main cast
Guest cast
WRITER Kevin Laffan
DIRECTOR Desmond McCarthy
PRODUCER David Goddard.
EXCECUTIVE PRODUCER Peter Holmans