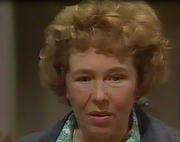 First appearance of Pat Merrick since Episode 130 (22nd January 1974) and first appearance of Helen Weir in the role. Pat had originally been known as Ruth Merrick but her name was changed to Pat by 1980 when the Merrick family were reintroduced and slightly revamped.
Ad blocker interference detected!
Wikia is a free-to-use site that makes money from advertising. We have a modified experience for viewers using ad blockers

Wikia is not accessible if you've made further modifications. Remove the custom ad blocker rule(s) and the page will load as expected.