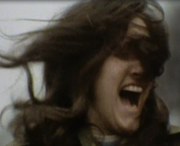 David tells Penny & Gwen that he may have a job at Emmerdale Farm as an odd job man. Annie tells Henry that it might do Joe good to go away for a while ; David arrives to start work, but tells Henry he cannot work with artificial fertilisers ; Henry tells him he can muck out nstead ; Buckley is planning to disrupt the dig ; Jack, Penny & Gwen laugh about Amos ; Jack asks Penny to go easy on Joe "he's a little inexperienced in the wiles of women" ; more artefacts are found at the dig ; Buckley tries to distract Wilks attention while his workmen try & fill in the hole ; a young girl is buried by earth ; she is taken away in an ambulance.
David has lunch at Emmerdale Farm ; he tells Annie he is a vegan ; Sam tells one of his tales ; Annie answers the telephone ; the County Planning Officer wants to speak to Henry ; Henry is furious with Buckley ; Joe asks Penny to go into Hotten with him to buy a motorbike ; she is rather cool with him after her chat with Jack ; Jack arrives at the farmhouse & says "you never do anything but make tea in here" ; Jack asks Annie why she has never read his book ; she says he never asked her to ; Henry tells Joe that he would be a fool to sell his share of the farm ; Jack worries Henry by telling him he has made some enemies & should watch out.
Main cast
Guest cast
Writer - Neville Siggs
Director - Desmond McCarthy
Producer - Peter Holmans
Ad blocker interference detected!
Wikia is a free-to-use site that makes money from advertising. We have a modified experience for viewers using ad blockers

Wikia is not accessible if you've made further modifications. Remove the custom ad blocker rule(s) and the page will load as expected.