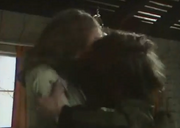 Jim Latimer
is befriended by 
Penny Golighty
at the old mill. But he has a clear motive. He starts to attack Penny and strangle her but 
Jack Sugden
intervenes. Rev Ruskin later says to Liz how Jim confessed to killing Sharon Crossthwaite.
SHEILA MERCIER - Annie Sugden
ANDREW BURT - Jack Sugden
FRAZER HINES - Joe Sugden
FREDERICK PYNE - Matt Skilbeck
TOKE TOWNLEY - Sam Pearson
ARTHUR PENTELOW - Henry Wilks
RONALD MAGILL - Amos Brearly
GEORGE LITTLE - Reverend Edward Ruskin
DAPHNE GREEN - Liz Ruskin
CAROLYN MOODY - Alison Gibbons
LOUISA MARTIN - Penny Golightly
MYLES REITHERMANN - Jim Latimer
JONA SCOTT - Beryl Crossthwaite

Writer - KEVIN LAFFAN
Director - TERENCE WILLIAMS
Producer - PETER HOLMANS
Ad blocker interference detected!
Wikia is a free-to-use site that makes money from advertising. We have a modified experience for viewers using ad blockers

Wikia is not accessible if you've made further modifications. Remove the custom ad blocker rule(s) and the page will load as expected.