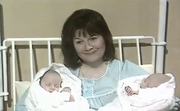 Henry & Alison discuss her past. He says he does not hold it against her. She explains that she was ill after her child died. Henry does not think that she should have been sent to prison " you are a special case " he tells her ; he asks Alison to marry him.
Jim Latimer
is helping Penny to redecorate the old millhouse ; he tells her how her father (Trash) spied on him when he was with Sharon Crossthwaite.
Penny Golighty
is surprised as she didn't realise that Jim knew Sharon ; he pretends that she was his girlfriend ; Joe arrives to tell Penny that Peggy has had a girl & a boy ; he is hostile towards Jim ; the Sugdens & Skilbecks celebrate the births in the Woolpack ; Sam insists that the boy should be called Samuel after him ; Stan, a Woolpack regular is quite drunk & pours a pint of beer over Sam ; the evening is quite lively ; Sam plays the whistle & sings 'The Garden of Eden ' ; Jack & the family join in. Annie tells Henry that he can come & stay at Emmerdale ; he accepts ; Matt & Joe are moving the furniture out of Peggy & Matt's room into Hawthorn Cottage& Sam expects to be moving into their attic room ; little does he know that Henry is moving into that room ; Henry offers to lend Matt some of the furniture rescued from Inglebrook ; Matt is very grateful ; Jack asks Penny questions about her father ; he admits that he is basing his next book on Trash ; Penny does not want to help him ; the Reverend Ruskin receives a lecture on embrication from Mrs Tolly ; Jim Latimer tells the vicar that he will come to church every Sunday from now on ; Annie visits Beryl Crossthwaite and they are both surprised when Penny tells them that Sharon was supposedly going out with Jim Latimer.
Ad blocker interference detected!
Wikia is a free-to-use site that makes money from advertising. We have a modified experience for viewers using ad blockers

Wikia is not accessible if you've made further modifications. Remove the custom ad blocker rule(s) and the page will load as expected.