As 
Matt Skilbeck
prepares to bring wife 
Dolly
back from Darlington, Beckindale is stunned by the news of an appalling crime.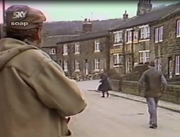 Young 
Wendy Hotson
has been raped. Due her describing the rapist as wearing a long cloak, her father
Cully Hotson
suspects that local misfit Poor Ocker is responsible. He chases him down Main Street but he gets away.
SHEILA MERCIER - Annie Sugden
FRAZER HINES - Joe Sugden
FREDERICK PYNE - Matt Skilbeck
KATHARINE BARKER - Dolly Skilbeck
ARTHUR PENTELOW - Henry Wilks
RONALD MAGILL - Amos Brearly
EDWARD DENTITH - Maurice Westrop
KATHERINE IDDON - Kitty
DENIS HOLMES - Cully Hotson
PADDY WARD - Det Sup Hoskins
ANDREW JARVIS - Poor Ocker
DAVID PARKE - Smarty Garret
Writer - KEVIN LAFFAN
Director - MIKE GIBBON
Producer - MICHAEL GLYNN
Ad blocker interference detected!
Wikia is a free-to-use site that makes money from advertising. We have a modified experience for viewers using ad blockers

Wikia is not accessible if you've made further modifications. Remove the custom ad blocker rule(s) and the page will load as expected.