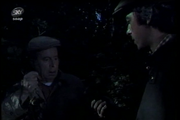 Poaching is rife on the
Home Farm
Estate and 
Trevor Thatcher
is determined to put a stop to it. 
Seth Armstrong
has other ideas - ideas which mean trouble for
Sam Pearson
. Sam agrees to accompany Seth so they both decide to go poaching. They meet up in the middle of the night. Trevor Thatcher is aware that someone is poaching on NY Estates land and Seth walks off for a minute leaving Sam alone in the bushes. Trevor Thatcher catches Sam red handed. Seth would have seen this and run off, leaving Sam to take the wrap.
SHEILA MERCIER - Annie Sugden
FRAZER HINES - Joe Sugden
FREDERICK PYNE - Matt Skilbeck
TOKE TOWNLEY - Sam Pearson
ARTHUR PENTELOW - Henry Wilks
RONALD MAGILL - Amos Brearly
KATHARINE BARKER - Dolly Skilbeck
HUGH MANNING - Rev Donald Hinton
MICHAEL CADMAN - Trevor Thatcher
PHYLLIDE NASH - Paula
SUSAN CARPENTER - Rachel Wellow
KEVIN STONEY - Major Vivian Denyer
STAN RICHARDS - Seth Armstrong
GAIL HARRISON - Marian Wilks
Writer - ANDY BAKER
Director - LEN LURCUCK
Producer - MICHAEL GLYNN
Executive Producer - DAVID CUNLIFFE
Ad blocker interference detected!
Wikia is a free-to-use site that makes money from advertising. We have a modified experience for viewers using ad blockers

Wikia is not accessible if you've made further modifications. Remove the custom ad blocker rule(s) and the page will load as expected.