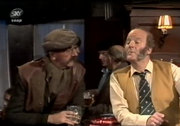 Joe Sugden
finds 
Major Vivian Denyer
and is troubled by his strange behaviour. Meanwhile Estate Manager
Trevor Thatcher
is worried about vandalism - and with good cause. That night there is a small fire at the chemical farm of which 
Seth Armstrong
discovers. He shouts asking if anyone is around. No one replies.
SHEILA MERCIER - Annie Sugden
FRAZER HINES - Joe Sugden
FREDERICK PYNE - Matt Skilbeck
TOKE TOWNLEY - Sam Pearson
ARTHUR PENTELOW - Henry Wilks
RONALD MAGILL - Amos Brearly
KATHARINE BARKER - Dolly Skilbeck
HUGH MANNING - Rev Donald Hinton
KEVIN STONEY - Major Vivian Denyer
MICHAEL CADMAN - Trevor Thatcher
PHYLLIDA NASH - Paula
SUSAN CARPENTER - Rachel Wellow
STAH RICHARDS - Seth Armstrong
GAIL HARRISON - Marin Wilks
ASHLEY BARKER - Tony Vine
Writer - ANDY BAKER
Director - LEN LURCOCK
Producer - MICHAEL GLYNN
Executive Producer - DAVID CUNLIFFE
Ad blocker interference detected!
Wikia is a free-to-use site that makes money from advertising. We have a modified experience for viewers using ad blockers

Wikia is not accessible if you've made further modifications. Remove the custom ad blocker rule(s) and the page will load as expected.