Sam Pearson
 loses his temper with his daughter 
Annie Sugden
over her friendship with old flame David Annersley. He says that despite her deceased husband
Jacob Sugden
's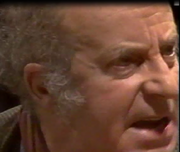 faults he was a good man and then says to Annie that is one thing she should have learned at least. He then storms out of the farm afterwards in front of
Joe
, 
Matt
and
Dolly
. However the village comes together for
Amos Brearly
's anniversary presentation at
The Woolpack
.
SHEILA MERCIER - Annie Sugden
FRAZER HINES - Joe Sugden
TOKE TOWNLEY - Sam Pearson
FREDERICK PYNE - Matt Skilbeck
KATHARINE BARKER - Dolly Skilbeck
ARTHUR PENTELOW - Henry Wilks
RONALD MAGILL - Amos Brearly
DAVID MARKHAM - David Annersley
JUDI LAMB - Pru Annersley
DAVID BEAME - Nicky Groves
JANE WOOD - Winn Groves
ANTONY CARRICK - Geoffrey Atwill
STANLEY PAGE - Mr Prior
Writer - KEVIN LAFFAN
Director - DAVID REYNOLDS
Producer - MICHAEL GLYNN
Executive Producer - DAVID CUNLIFFE
Ad blocker interference detected!
Wikia is a free-to-use site that makes money from advertising. We have a modified experience for viewers using ad blockers

Wikia is not accessible if you've made further modifications. Remove the custom ad blocker rule(s) and the page will load as expected.