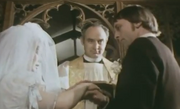 Joe is on tenterhooks waiting to see if Penny comes home from the Millhouse. Jack brings Penny home. Penny explains to Joe that her father had an accident & was kept in hospital ; from then on he thought that anyone in a uniform was going to take him away ; Joe worries that she is interested in Jack ; Liz & Edward discuss Alisons past ; Edward questions his faith ; Amos asks Alison what she did the previous night ; she knows that he saw her with Henry Wilks & tells him that her private life is her own ; Frank is preparing for his wedding ; Jack is best man & Frank asks him if he has got the ring ; Jack looks very worried.
Sam, Joe, Matt, Peggy, Henry & Annie are all dressed up for Frank & Janie's wedding ; Joe tells Penny that she looks lovely ; Jack has put the wedding ring in the bank & has to race to Hotten to get it ; Reverend Ruskin prepares for the wedding ; Alison says to Liz that the vicar does not look very well ; the wedding guests are waiting in the church for Jack & Frank to arrive ; Henry Wilks is the only guest on Frank's side of the church ; wedding ceremony takes place. Amos talks to a Woolpack regular about marriage.
SHEILA MERCIER - Annie Sugden
FRAZER HINES - Joe Sugden
ANDREW BURT - Jack Sugden
FREDERICK PYNE - Matt Skilbeck
JO KENDALL - Peggy Skilbeck
TOKE TOWNLEY - Sam Pearson
ARTHUR PENTELOW - Henry Wilks
RONALD MAGILL - Amos Brearly
CAROLYN MOODY - Alison Gibbons
ERIC ALLAN - Frank Blakey
DIANE GRAYSON - Janie Harker
GEORGE LITTLE - Reverend Edward Ruskin
DAPHNE GREEN - Liz Ruskin
LOUISA MARTIN - Penny Golightly

Writer - KEVIN LAFFAN
Director - TERENCE WILLIAMS
Producer - PETER HOLMANS
Ad blocker interference detected!
Wikia is a free-to-use site that makes money from advertising. We have a modified experience for viewers using ad blockers

Wikia is not accessible if you've made further modifications. Remove the custom ad blocker rule(s) and the page will load as expected.