It is the big day for Matt and Dolly. Amos is ready to give Dolly away the the wedding. At the wedding itself the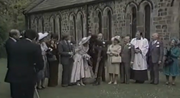 chimmney sweep arrives just in time to kiss the bride. The photographer takes a photo of the wedding attendants.
Ad blocker interference detected!
Wikia is a free-to-use site that makes money from advertising. We have a modified experience for viewers using ad blockers

Wikia is not accessible if you've made further modifications. Remove the custom ad blocker rule(s) and the page will load as expected.