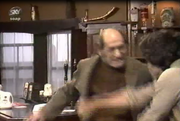 In the back of 
The Woolpack
, 
Matt
and 
Dolly
discuss the wedding arrangements. There is still no word from Dolly's mother so Dolly says that she has decided to forget about her altogether. She gives Matt a shock as well by revealing that she is going to ask Amos to give her away!
That evening 
Joe Sugden
confronts 
Tom Hawker
in the Woolpack over his actions surrounding
Pip Coulter
, who is still missing. Tom blurts out that Joe is the father of Pip's unborn baby. Such is Joe's anger that he knocks Tom to the ground. Tom quickly leaves the pub and Joe apologises to
Mrs Hawker
shortly afterwards the Hawkers leave. Joe has some news for Dolly. Her mother has arrived in the village - with a man she introduced as her new husband!
SHEILA MERCIER - Annie Sugden
FRAZER HINES - Joe Sugden
FREDERICK PYNE - Matt Skilbeck
TOKE TOWNLEY - Sam
ARTHUR PENTELOW - Henry Wilks
RONALD MAGILL - Amos Brearly
KATHARINE BARKER - Dolly Acaster
HUGH MANNING - Reverend Hinton
JULIE DAWN COLE - Pip
VALERIE GEORGESON - Polly Ferris
DONALD MORLEY - Alec Ferris
TEDDY TURNER - Tom Hawker
KATHLEEN WORTH - Mrs Hawker
JEAN HEYWOOD - Mrs Acaster
ALAN HOCKEY - Leonard Purwick
KATHLEEN HELME - Aunt Jessie

Writer - KEVIN LAFFAN
Director - DEREK MARTINUS
Producer - MICHAEL GLYNN
Executive Producer - DAVID CUNLIFFE
Ad blocker interference detected!
Wikia is a free-to-use site that makes money from advertising. We have a modified experience for viewers using ad blockers

Wikia is not accessible if you've made further modifications. Remove the custom ad blocker rule(s) and the page will load as expected.