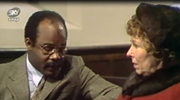 Having discovered that the mysterious Hannah Elizabeth was married to a Pearson, Moeketsi continues to investigate her ancestry with the help of Seth who asks him not to tell Sam of their discovery until they are sure it's genuine.
The opportunity to inform Sam arises when Hinton returns from Hotten where he has gone through the archives and found some information about a trial. He explains the information to Sam who seems to be very shaken. He asks for time to think about everything that he's been told and walks off, in silence.
SHEILA MERCIER - Annie Sugden
FRAZER HINES - Joe Sugden
FREDERICK PYNE - Matt Skilbeck
TOKE TOWNLEY - Sam
ARTHUR PENTELOW - Henry Wilks
RONALD MAGILL - Amos Brearly
KATHARINE BARKER - Dolly Acaster
HUGH MANNING - Reverend Hinton
STAN RICHARDS - Seth
KATHLEEN HELME - Aunt Jessie
OSCAR JAMES - Mr Moeketsi
TED RICHARDS - Rev Chadband
JULIA GARLICK -

Writer - ANNE VALERY
Director - PADDY RUSSELL
Producer - MICHAEL GLYNN
Executive Producer - DAVID CUNLIFFE
Ad blocker interference detected!
Wikia is a free-to-use site that makes money from advertising. We have a modified experience for viewers using ad blockers

Wikia is not accessible if you've made further modifications. Remove the custom ad blocker rule(s) and the page will load as expected.