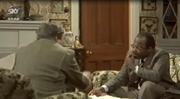 Everybody is busy up at Emmerdale Farm. So much so that nobody ntoices that the police are outside the Hawkers house which sets them thinking about the fate of Pip and Steve. It emerges that they have been arrested in Liverpool so Amos looks forward in aticipation to his role of chief witness in the trial!
Later that night, there is a convival evening in the farm. Jessie is holding forth to Matt, Joe, Annie and Sam. She suggests there be a party after the wedding in the village hall and they all get carried away with the idea, until Annie points out that Mrs Acaster will want it all done properly. But then Jessie unleashes her bombshell. She's phoned Mrs Acaster, who seems to have lost all interest in the wedding.
When Dolly hears, she can't believe it. That her mother has agreed to all Jessie's plans seems too good to be true, but she's not going to be first to ask why. Now, at long last, Dolly is looking forward to the wedding.
SHEILA MERCIER - Annie Sugden
FRAZER HINES - Joe Sugden
FREDERICK PYNE - Matt Skilbeck
TOKE TOWNLEY - Sam
ARTHUR PENTELOW - Henry Wilks
RONALD MAGILL - Amos Brearly
KATHARINE BARKER - Dolly Acaster
HUGH MANNING - Reverend Hinton
STAN RICHARDS - Seth
KATHLEEN HELME - Aunt Jessie
OSCAR JAMES - Teacher
TED RICHARDS - Rev Chadband
JULIA GARLICK -

Writer - ANNE VALERY
Director - PADDY RUSSELL
Producer - MICHAEL GLYNN
Executive Producer - DAVID CUNLIFFE
Ad blocker interference detected!
Wikia is a free-to-use site that makes money from advertising. We have a modified experience for viewers using ad blockers

Wikia is not accessible if you've made further modifications. Remove the custom ad blocker rule(s) and the page will load as expected.