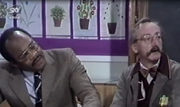 Mystery continues to surround the skull, but Hinton is determined to find out if it is the Hannah Eliazbeth that everyone is mentioning so he delves into the parish records. Moeketski seems to be settling in welll at the school. His only concern is the forthcoming musical because he has no musical knowledge himself. Hinton suggests that he speaks to Sam.
Plans are put in place for Dolly's baptism but Annie thinks the location of it will upset Sam.
SHEILA MERCIER - Annie Sugden
FRAZER HINES - Joe Sugden
FREDERICK PYNE - Matt Skilbeck
TOKE TOWNLEY - Sam Pearson
ARTHUR PENTELOW - Henry Wilks
RONALD MAGILL - Amos Brearly
KATHARINE BARKER - Dolly Acaster
HUGH MANNING - Reverend Hinton
STAN RICHARDS - Seth Armstrong
KATHLEEN HELME - Aunt Jessie
OSCAR JAMES - Mr Moeketski
JULIA GARLICK - Freddie Armstrong

Writer - ANNE VALERY
Director - PADDY RUSSELL
Producer - MICHAEL GLYNN
Executive Producer - DAVID CUNLIFFE
Ad blocker interference detected!
Wikia is a free-to-use site that makes money from advertising. We have a modified experience for viewers using ad blockers

Wikia is not accessible if you've made further modifications. Remove the custom ad blocker rule(s) and the page will load as expected.