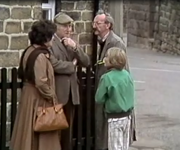 At 
Emmerdale Farm
, 
Sam Pearson
gets out some old photos. Meanwhile 
Amos Brearly
at 
The Woolpack
is expecting a boilerman to look at his boiler. 
Dolly Acaster
receives a letter from her mother
Phyllis Acaster
that clearly holds the worst of news. Mrs Acaster is still going on about the dress and demanding taffets. And now she's also got a bee in her bonnet about the reception.
Antony Moeketski
, the temporary Beckindale schoolteacher who is black, introduces himself to Amos then to
Reverand Donald Hinton
. A villager who is tall and has a dark moustache called 
Seth
calls the Scouse 
boilerman
a "foreigner" and spits on the pavement outside the Woolpack.
SHEILA MERCIER - Annie Sugden
FRAZER HINES - Joe Sugden
FREDERICK PYNE - Matt Skilbeck
TOKE TOWNLEY - Sam
ARTHUR PENTELOW - Henry Wilks
RONALD MAGILL - Amos Brearly
KATHARINE BARKER - Dolly Acaster
HUGH MANNING - Reverend Hinton
STAN RICHARDS - Seth Armstrong
KATHLEEN HELME - Aunt Jessie
OSCAR JAMES - Teacher (Mr Moeketsi)
BILL DEAN - Boilerman
GEORGE MALPAS - Barney
JULIA GARLICK - Freddie Armstrong

Writer - ANNE VALERY
Director - PADDY RUSSELL
Producer - MICHAEL GLYNN
Executive Producer - DAVID CUNLIFFE
First appearance of the legendary Seth Armstrong.
Ad blocker interference detected!
Wikia is a free-to-use site that makes money from advertising. We have a modified experience for viewers using ad blockers

Wikia is not accessible if you've made further modifications. Remove the custom ad blocker rule(s) and the page will load as expected.