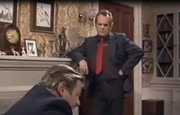 It is some two weeks after the dramatic events at Emmerdale Farm and the scandal is starting to die down. PC Edwards informs Annie that her car has been found in Manchester but there is still no sign of Steve and Pip.
Hinton is in discussion with 
Paul Pargrave
at the vicarage when he receives a phone call from Annie who wants him to go and see the Coulter family because Sam thinks that Will might do something stupid. But Hinton is obviously too late. A police car followed by an ambulance drives up to the Coulters house.
SHEILA MERCIER - Annie Sugden
FRAZER HINES - Joe Sugden
FREDERICK PYNE - Matt Skilbeck
TOKE TOWNLEY - Sam
ARTHUR PENTELOW - Henry Wilks
RONALD MAGILL - Amos Brearly
KATHARINE BARKER - Dolly Acaster
HUGH MANNING - Reverend Hinton
PHILIP MADOC -
SALLY ADAMS -
JULIE DAWN COLE - Pip

Writer - KEVIN LAFFAN
Director - GERALD BLAKE
Producer - MICHAEL GLYNN
Executive Producer - DAVID CUNLIFFE
Ad blocker interference detected!
Wikia is a free-to-use site that makes money from advertising. We have a modified experience for viewers using ad blockers

Wikia is not accessible if you've made further modifications. Remove the custom ad blocker rule(s) and the page will load as expected.