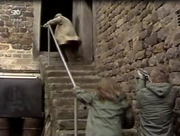 Hinton is woken in the vicarage by loud, violent banging on his front door. It is Mr and Mrs Coulter who have come to find their daughter and think that Hinton is responsible for their daughter's disappearance. Pip's true location is with 
Steve Hawker
in the old ruined house and they are preparing to make their getaway.
They make a run for it but are pursued by PC Edwards. They burst into the shed where Sam is and Steve threatens to blow his head off. PC Edwards goes to phone for assistance, anticipating a siege at Emmerdale Farm.
SHEILA MERCIER - Annie Sugden
FRAZER HINES - Joe Sugden
FREDERICK PYNE - Matt Skilbeck
TOKE TOWNLEY - Sam
ARTHUR PENTELOW - Henry Wilks
RONALD MAGILL - Amos Brearly
KATHARINE BARKER - Dolly Acaster
HUGH MANNING - Reverend Hinton
PHILIP MADOC -
PAUL ROSEBURY -
PETER WALLIS -
SALLY ADAMS -
JULIE DAWN COLE - Pip

Writer - KEVIN LAFFAN
Director - GERALD BLAKE
Producer - MICHAEL GLYNN
Executive Producer - DAVID CUNLIFFE
Ad blocker interference detected!
Wikia is a free-to-use site that makes money from advertising. We have a modified experience for viewers using ad blockers

Wikia is not accessible if you've made further modifications. Remove the custom ad blocker rule(s) and the page will load as expected.