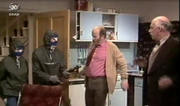 Amos and Mr Wilks are in for a night never to forget. As they close up the pub after all the punters have gone home, 
Steve Hawker
and Pip plan to rob the Woolpack. Pip is reluctant. Steve and Pip stake out the Woolpack and knock on the back door. Amos answers it and the two robbers barge in. Steve tells Amos and Henry to go into the cellar and not say a word. They take a bag full of money and scarper. Amos and Henry are locked in the cellar. They scream for help but no one answers.
HEILA MERCIER - Annie Sugden
FRAZER HINES - Joe Sugden
FREDERICK PYNE - Matt Skilbeck
TOKE TOWNLEY - Sam
ARTHUR PENTELOW - Henry Wilks
RONALD MAGILL - Amos Brearly
KATHARINE BARKER - Dolly Acaster
HUGH MANNING - Reverend Hinton
PHILIP MADOC - Paul Pargrave
PAUL ROSEBURY - Steve Hawker
PETER WALLIS - Will Coulter
SALLY ADAMS - Pam Coulter
JULIE DAWN COLE - Pip

Writer - KEVIN LAFFAN
Director - GERALD BLAKE
Producer - MICHAEL GLYNN
Executive Producer - DAVID CUNLIFFE
Ad blocker interference detected!
Wikia is a free-to-use site that makes money from advertising. We have a modified experience for viewers using ad blockers

Wikia is not accessible if you've made further modifications. Remove the custom ad blocker rule(s) and the page will load as expected.