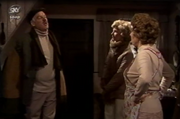 At Emmerdale Farm, Wilks tells Annie about his quarrel with Hinton yesterday and insists that the vicar is wrong not to do something about Paul Pargrave. Toleration can be taken too far. And he also thinks that Pip Coulter is having a bad time at her parents and someone should do something about that. At the same time Hinton is returning to the vicarage after doing some work at the church when he finds Pip ringing his door bell. Hinton asks her if she wants to see him and takes her inside for tea. Little do they know that Steve Hawker has been watching everything.
Ad blocker interference detected!
Wikia is a free-to-use site that makes money from advertising. We have a modified experience for viewers using ad blockers

Wikia is not accessible if you've made further modifications. Remove the custom ad blocker rule(s) and the page will load as expected.