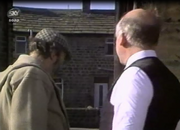 Sam quizzes Joe about Pip but Joe denies that he has any romantic involvement with her. After all, Pip is going out with Steve. Meanwhile, Steve Hawker knows that what Joe is talking about is spying on the Coulter house where through a window he sees some religious service being conducted by a man reading a bible. This is Paul Pargrave, the missionary. It appears that Hinton may have some competition on the religious front.
Ad blocker interference detected!
Wikia is a free-to-use site that makes money from advertising. We have a modified experience for viewers using ad blockers

Wikia is not accessible if you've made further modifications. Remove the custom ad blocker rule(s) and the page will load as expected.