Clive Hinton
 entertains Ruth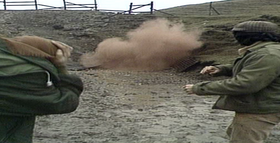 and Ian over a few drinks at the vicarage. He talks expansively about his plans for the mine. 
Ian Hepton
is still against the scheme, especially now its looking more complicated. 
Rod
then arrives, with the news that he's got the explosives all fixed up which means their ready for the big bang. They all drink to their good fortune, except Ian who is more worried than ever.
The next day Ian, Rod and Clive travel up to the mine to commence with the proceedings. Meanwhile 
Joe Sugden
arrives at the farm to make a call and
Ruth Hepton
, not being able to work for worrying about Ian, persuades him to take her up to the mine. They drive off. At the mine, the preparations are almost done as Rod fixes up the electrics. And while they still are inside, Ruth and Joe arrive on the outside. But as they walk towards the mouth of the mine, there is an explosion. Are Ian, Clive and Rod all right?
SHEILA MERCIER - Annie Sugden
FRAZER HINES - Joe Sugden
FREDERICK PYNE - Matt Skilbeck
TOKE TOWNLEY - Sam
ARTHUR PENTELOW - Henry Wilks
RONALD MAGILL - Amos Brearly
KATHARINE BARKER - Dolly Acaster
HUGH MANNING - Reverend Hinton
Guest cast
Writer - ANDY BAKER
Director - DARROL BLAKE
Producer - MICHAEL GLYNN
Executive Producer - DAVID CUNLIFFE