Henry Wilks
 is hurt becuse 
Joe Sugden
has not informed him about the impending sale of 
Hawthorn Cottage
and tells 
Annie Sugden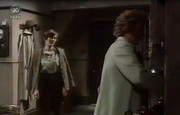 that he will give him a talking to about how to conduct business. Annie gives Kathy a lift home from the shops and tells Joe of her return to Beckindale. Soon after the phone rings and it is Kathy to say that she has left her bag in Annie's car. Seizing his chance to see Kathy again, Joe offers to deliver it personally.
SHEILA MERCIER - Annie Sugden
FREDERICK PYNE - Matt Skilbeck
FRAZER HINES - Joe Sugden
TOKE TOWNLEY - Sam Pearson
ARTHUR PENTELOW - Henry Wilks
RONALD MAGILL - Amos Brearly
POLLY HEMINGWAY - Kathy
ADRIENNE FRANK - Lucy Stubbs
Writer - KEVIN LAFFAN
Director - PADDY RUSSELL
Producer - MICHAEL GLYNN
Executive Producer - DAVID CUNLIFFE
Ad blocker interference detected!
Wikia is a free-to-use site that makes money from advertising. We have a modified experience for viewers using ad blockers

Wikia is not accessible if you've made further modifications. Remove the custom ad blocker rule(s) and the page will load as expected.