Speculation is rife as the news spreads that 
Kathy Gimbel
is back in Beckindale. Meanwhile in the middle of the night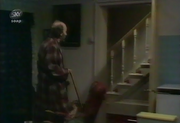 at
The Woolpack
, 
Amos Brearly
wakes 
Henry Wilks
becuase he's heard something. He says he heard what he describes as a "ruppity thump". (Mr Wilks never heard of the word and nor have I when I watched the episode lol).They investigate, find nothing but Amos is now still more certain that there's something supernatural going on.
SHEILA MERCIER - Annie Sugden
FREDERICK PYNE - Matt Skilbeck
FRAZER HINES - Joe Sugden
TOKE TOWNLEY - Sam Pearson
ARTHUR PENTELOW - Henry Wilks
RONALD MAGILL - Amos Brearly
POLLY HEMINGWAY - Kathy
ADRIENNE FRANK - Lucy Stubbs
Writer - KEVIN LAFFAN
Director - PADDY RUSSELL
Producer - MICHAEL GLYNN
Executive Producer - DAVID CUNLIFFE
Ad blocker interference detected!
Wikia is a free-to-use site that makes money from advertising. We have a modified experience for viewers using ad blockers

Wikia is not accessible if you've made further modifications. Remove the custom ad blocker rule(s) and the page will load as expected.