After 
Henry Wilks
surprising announcement that he plays bowls, 
Sam Pearson
watches him play and is encouraged by his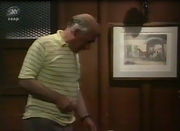 skill, prompting him to consider his selection for the annual cricket match. Back at the pub Wilks is intrigued to find out why
Tom
and 
Lucy Stubbs
are talking about 
Hawthorn Cottage
because 
Joe Sugden
has said nothing to him about selling it.
SHEILA MERCIER - Annie Sugden
FREDERICK LYNE - Matt Skilbeck
FRAZER HINES - Joe Sugden
TOKE TOWNLEY - Sam Pearson
ARTHUR PENTELOW - Henry Wilks
RONALD MAGILL - Amos Brearly
GWEN HARRIS- Lilly Cooper
ADRIENNE FRANK - Lucy Stubbs
GEOFFREY HOOPER - Walter
Writer - KEVIN LAFFAN
Director - PADDY RUSSELL
Producer - MICHAEL GLYNN
Executive Producer - DAVID CUNLIFFE
Ad blocker interference detected!
Wikia is a free-to-use site that makes money from advertising. We have a modified experience for viewers using ad blockers

Wikia is not accessible if you've made further modifications. Remove the custom ad blocker rule(s) and the page will load as expected.